East High School
FZ Expanded Drive-Through Meal Program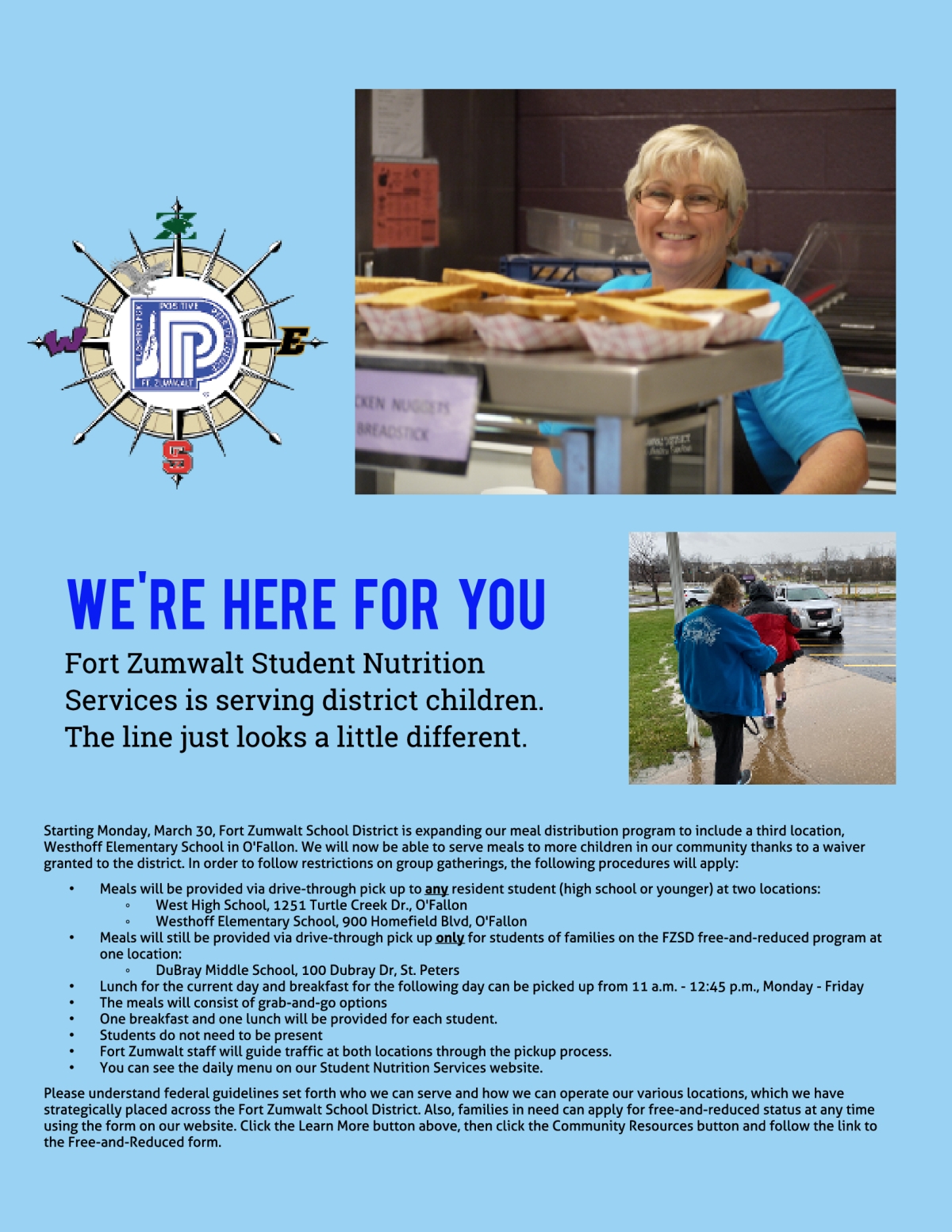 WE'RE HERE FOR YOU Fort Zumwalt Student Nutrition Services is serving district children. The line just looks a little different. Starting Monday, March 30, Fort Zumwalt School District is expanding our meal distribution program to include a third location, Westhoff Elementary School in O'Fallon. We will now be able to serve meals to more children in our community thanks to a waiver granted to the district. In order to follow restrictions on group gatherings, the following procedures will apply: Meals will be provided via drive-through pick up to ANY resident student (high school or younger) at two locations: West High School, 1251 Turtle Creek Dr., O'Fallon Westhoff Elementary School, 900 Homefield Blvd, O'Fallon Meals will still be provided via drive-through pick up ONLY for students of families on the FZSD free-and-reduced program at one location: DuBray Middle School, 100 Dubray Dr, St. Peters Lunch for the current day and breakfast for the following day can be picked up from 11 a.m. - 12:45 p.m., Monday - Friday The meals will consist of grab-and-go options One breakfast and one lunch will be provided for each student. Students DO NOT need to be present Fort Zumwalt staff will guide traffic at both locations through the pickup process. You can see the daily menu on our Student Nutrition Services website. Please understand federal guidelines set forth who we can serve and how we can operate our various locations, which we have strategically placed across the Fort Zumwalt School District. Also, families in need can apply for free-and-reduced status at any time using the form on our website. Click the Learn More button above, then click the Community Resources button and follow the link to the Free-and-Reduced form.
Flyer ID 973967
Sent from East High School
© 2019 Peachjar. All rights reserved.