University High School
FUSD Lunch Letter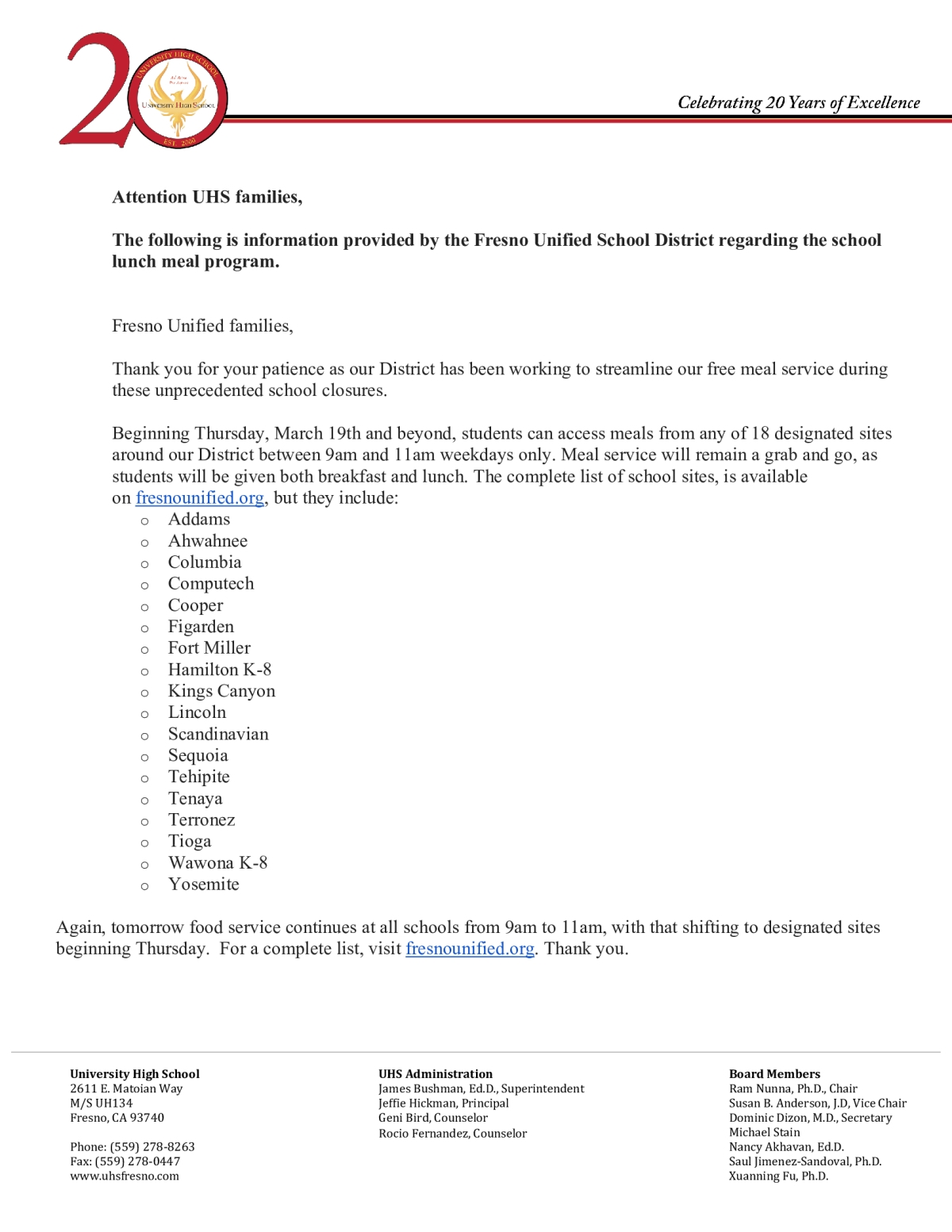 Celebrating 20 Years of Excellence UNINeary Hian Saron EST 200 Attention UHS families, The following is information provided by the Fresno Unified School District regarding the school lunch meal program. Fresno Unified families, you for your patience as our District has been working to streamline our free meal service during these unprecedented school closures. Thank Beginning Thursday, March 19th and beyond, students can access meals from any of 18 designated sites around our District between 9am and 11am weekdays only. Meal service will remain a grab and go, as students will be given both breakfast and lunch. The complete list of school sites, is available on fresnounified.org, but they include: Addams Ahwahnee Columbia o Computech o Cooper Figarden Fort Miller Hamilton K-8 Kings Canyon Lincoln Scandinavian Sequoia Tehipite Tenaya Terronez Tioga Wawona K-8 Yosemite Again, tomorrow food service continues at all schools from 9am to 11am, with that shifting to designated sites beginning Thursday. For a complete list, visit fresnounified.org. Thank you. University High School 2611 E. Matoian Way M/S UH134 Fresno, CA 93740 UHS Administration Board Members James Bushman, Ed.D., Superintendent Jeffie Hickman, Principal Geni Bird, Counselor Ram Nunna, Ph.D., Chair Susan B. Anderson, J.D, Vice Chair Dominic Dizon, M.D., Secretary Michael Stain Rocio Fernandez, Counselor Phone: (559) 278-8263 Fax: (559) 278-0447 www.uhsfresno.com Nancy Akhavan, Ed.D. Saul Jimenez-Sandoval, Ph.D. Xuanning Fu, Ph.D.
Flyer ID 971078
Sent from University High School
© 2019 Peachjar. All rights reserved.