Hallsville R Iv
Kindergarten Registration 2020-2021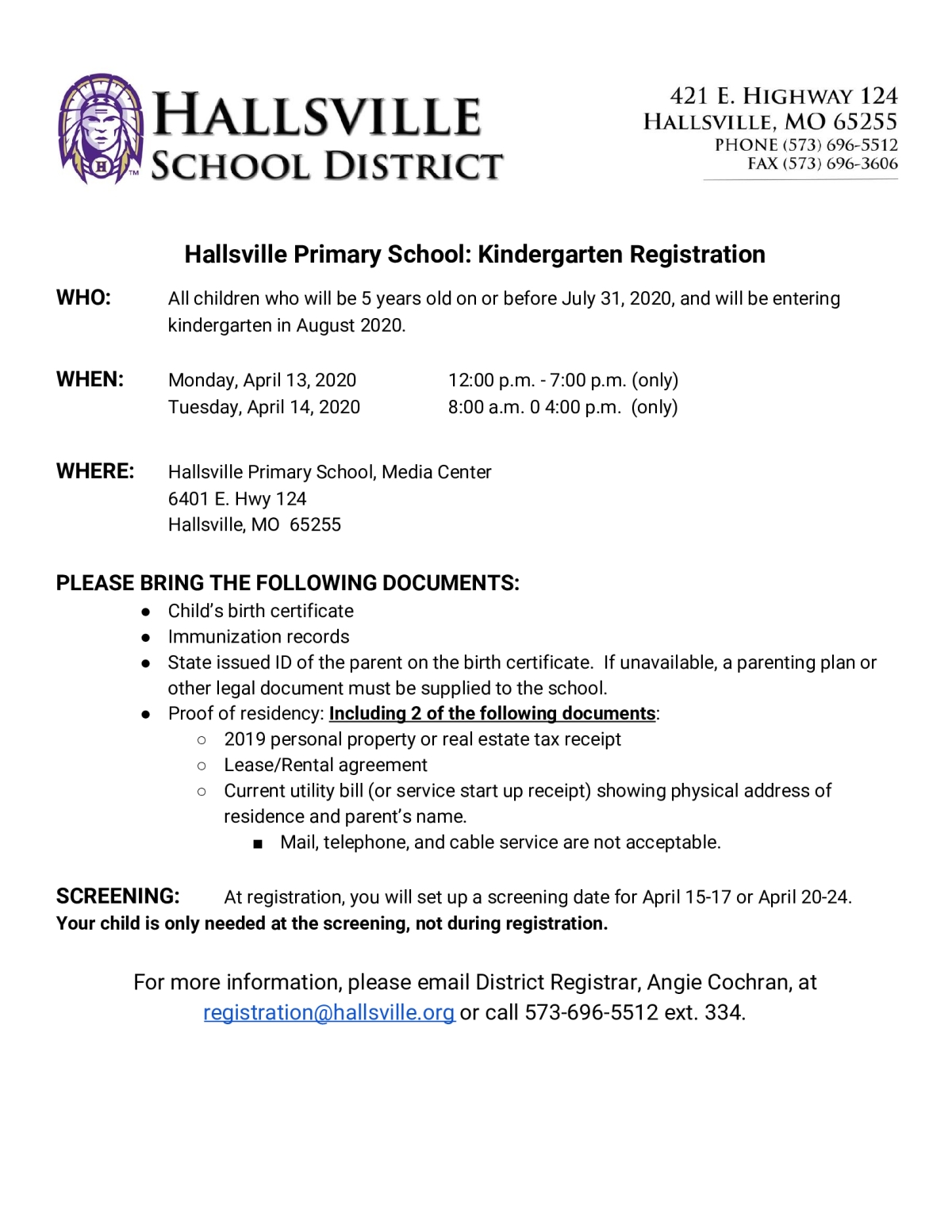 421 E. HIGHWAY 124 HALLSVILLE O SCHOOL DISTRICT HALLSVILLE, MO 65255 PHONE (573) 696-5512 FAX (573) 696-3606 Hallsville Primary School: Kindergarten Registration WHO: All children who will be 5 years old on or before July 31, 2020, and will be entering kindergarten in August 2020. WHEN: Monday, April 13, 2020 Tuesday, April 14, 2020 12:00 p.m. - 7:00 p.m. (only) 8:00 a.m. 0 4:00 p.m. (only) WHERE: Hallsville Primary School, Media Center 6401 E. Hwy 124 Hallsville, MO 65255 PLEASE BRING THE FOLLOWING DOCUMENTS: Child's birth certificate Immunization records State issued ID of the parent on the birth certificate. If unavailable, a parenting plan or other legal document must be supplied to the school. Proof of residency: Including 2 of the following documents: o 2019 personal property or real estate tax receipt Lease/Rental agreement Current utility bill (or service start up receipt) showing physical address of residence and parent's name. Mail, telephone, and cable service are not acceptable. SCREENING: At registration, you will set up a screening date for April 15-17 or April 20-24. Your child is only needed at the screening, not during registration. For more information, please email District Registrar, Angie Cochran, at registration@hallsville.org or call 573-696-5512 ext. 334.
Flyer ID 921219
Sent from Hallsville R Iv
© 2019 Peachjar. All rights reserved.