Troy School District
Troy Baseball - 2020 Registration - NOW OPEN!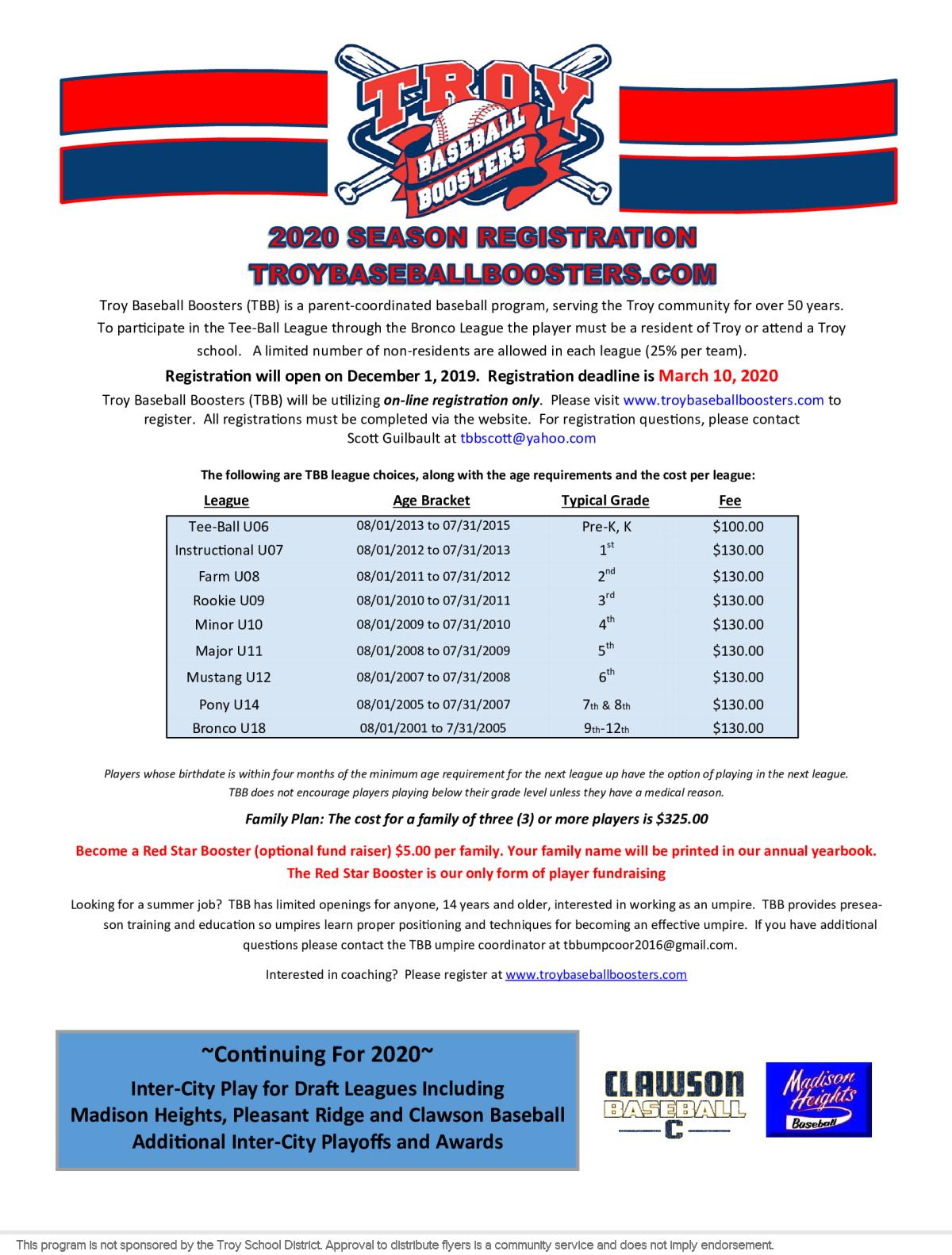 TRO BASEBALL BOOSTERS 2020 SEASON REGISTRATION TROYBASEBALLBOOSTERS.COM Troy Baseball Boosters (TBB) is a parent-coordinated baseball program, serving the Troy community for over 50 years. To participate in the Tee-Ball League through the Bronco League the player must be a resident of Troy or attend a Troy school. A limited number of non-residents are allowed in each league (25% per team). Registration will open on December 1, 2019. Registration deadline is March 10, 2020 Troy Baseball Boosters (TBB) will be utilizing on-line registration only. Please visit www.troybaseballboosters.com to register. All registrations must be completed via the website. For registration questions, please contact Scott Guilbault at tbbscott@yahoo.com The following are TBB league choices, along with the age requirements and the cost per league: League Age Bracket Typical Grade Fee Tee-Ball U06 08/01/2013 to 07/31/2015 Pre-K, K $100.00 Instructional U07 08/01/2012 to 07/31/2013 1st $130.00 Farm U08 08/01/2011 to 07/31/2012 2nd $130.00 Rookie U09 08/01/2010 to 07/31/2011 3rd $130.00 Minor U10 08/01/2009 to 07/31/2010 4th $130.00 Major U11 08/01/2008 to 07/31/2009 5 th $130.00 Mustang U12 08/01/2007 to 07/31/2008 6th $130.00 Pony U14 08/01/2005 to 07/31/2007 7th & 8th $130.00 Bronco U18 08/01/2001 to 7/31/2005 9th-12th $130.00 Players whose birthdate is within four months of the minimum age requirement for the next league up have the option of playing in the next league. TBB does not encourage players playing below their grade level unless they have a medical reason. Family Plan: The cost for a family of three (3) or more players is $325.00 Become a Red Star Booster (optional fund raiser) $5.00 per family. Your family name will be printed in our annual yearbook. The Red Star Booster is our only form of player fundraising Looking for a summer job? TBB has limited openings for anyone, 14 years and older, interested in working as an umpire. TBB provides presea- son training and education so umpires learn proper positioning and techniques for becoming an effective umpire. If you have additional questions please contact the TBB umpire coordinator at tbbumpcoor2016@gmail.com. Interested in coaching? Please register at www.troybaseballboosters.com "Continuing For 2020~ Inter-City Play for Draft Leagues Including Madison Heights, Pleasant Ridge and Clawson Baseball CLAWSON BASEBALL Madison Heights Basebak Additional Inter-City Playoffs and Awards
Flyer ID 902972
Sent from Troy School District
© 2019 Peachjar. All rights reserved.