Central School
Madison County Baseball Camp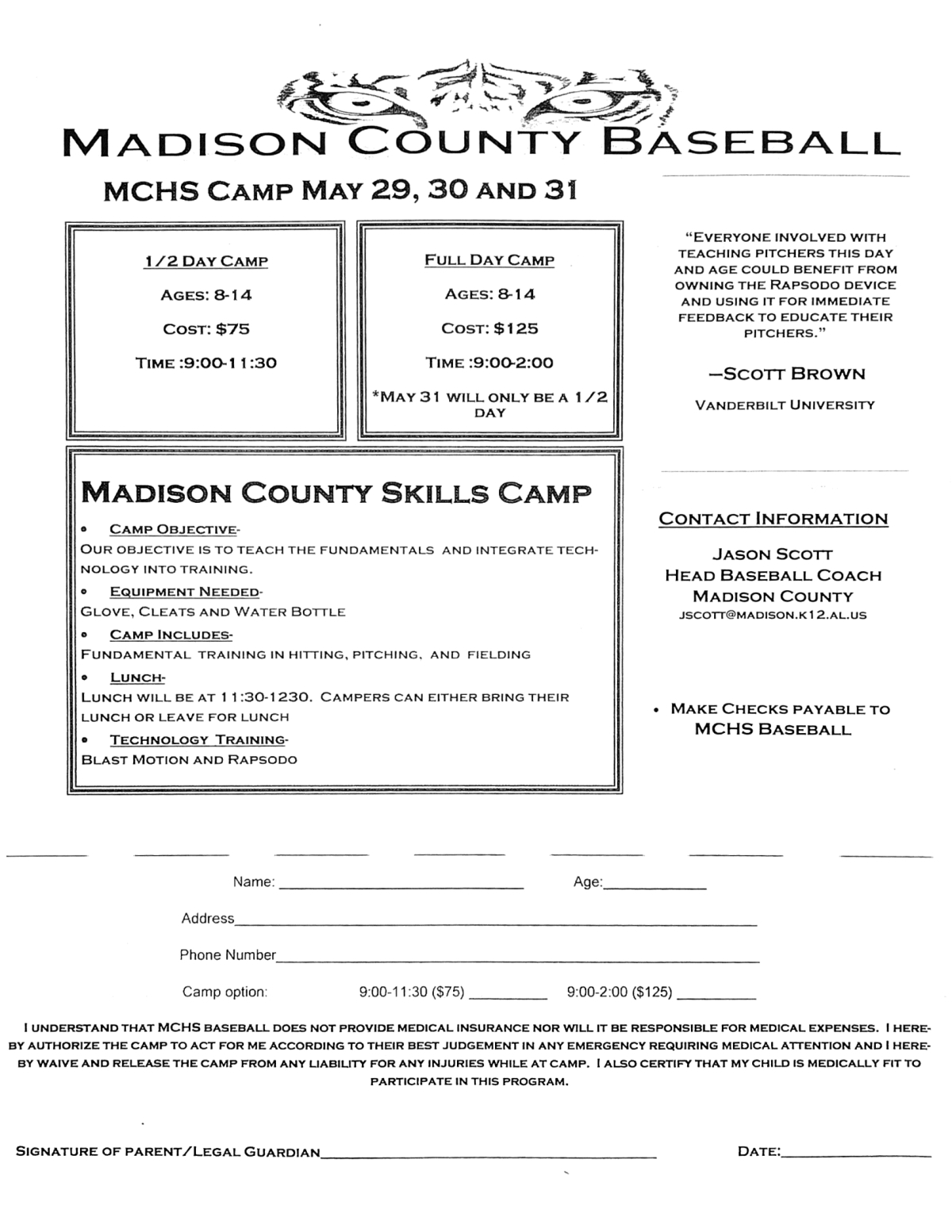 MADISON COUNTY BASEBALL MCHS CAMP MAY 29, 30 AND 31 "EVERYONE INVOLVED WITH TEACHING PITCHERS THIS DAY AND AGE COULD BENEFIT FROM OWNING THE RAPSODO DEVICE AND USING IT FOR IMMEDIATE FEEDBACK TO EDUCATE THEIR PITCHERS." FULL DAY CAMP AGES: 8-14 COST: $125 TIME :9:00-2:oO MAY 31 WILL ONLY BE A 1/2 1/2 DAY CAMP AGES: 8-14 COST: $75 TIME :9:00-1 1:30 -SCOTT BROWN VANDERBILT UNIVERSITY DAY MADISON COUNTY SKILLS CAMP CONTACT INFORMATION o CAMP OBJECTIVE- OUR OBJECTIVE IS TO TEACH THE FUNDAMENTALS AND INTEGRATE TECH NOLOGY INTO TRAINING JASON SCOTT HEAD BASEBALL COACH MADISON COUNTY JSCOTT@MADISON.K12.AL.US EQUIPMENT NEEDED GLOVE, CLEATS AND WATER BOTTLE o CAMP INCLUDES- FUNDAMENTAL TRAINING IN HITTING, PITCHING. AND FIELDING LUNCH LUNCH WILL BE AT 1 1:30-1230. CAMPERS CAN EITHER BRING THEIR LUNCH OR LEAVE FOR LUNCH TECHNOLOGY TRAINING BLAST MOTION AND RAPSODO MAKE CHECKS PAYABLE TO MCHS BASEBALL Name Age Address Phone Number Camp option 9:00-11:30 ($75) 9:00-2:00 ($125) I UNDERSTAND THAT MCHS BASEBALL DOES NOT PROVIDE MEDICAL INSURANCE NOR WILL IT BE RESPONSIBLE FOR MEDICAL EXPENSES. I HERE- BY AUTHORIZE THE CAMP TO ACT FOR ME ACCORDING TO THEIR BEST JUDGEMENT IN ANY EMERGENCY REQUIRING MEDICAL ATTENTION AND I HERE- BY WAIVE AND RELEASE THE CAMP FROM ANY LIABILITY FOR ANY INJURIES WHILE AT CAMP. IALSO CERTIFY THAT MY CHILD IS MEDICALLY FIT TO PARTICIPATE IN THIS PROGRAM SIGNATURE OF PARENT/LEGAL GUARDIAN DATE:
Flyer ID 743990
Sent from Central School
© 2019 Peachjar. All rights reserved.