Kent School District
KSD Budget Restructuring Flyer, February 2019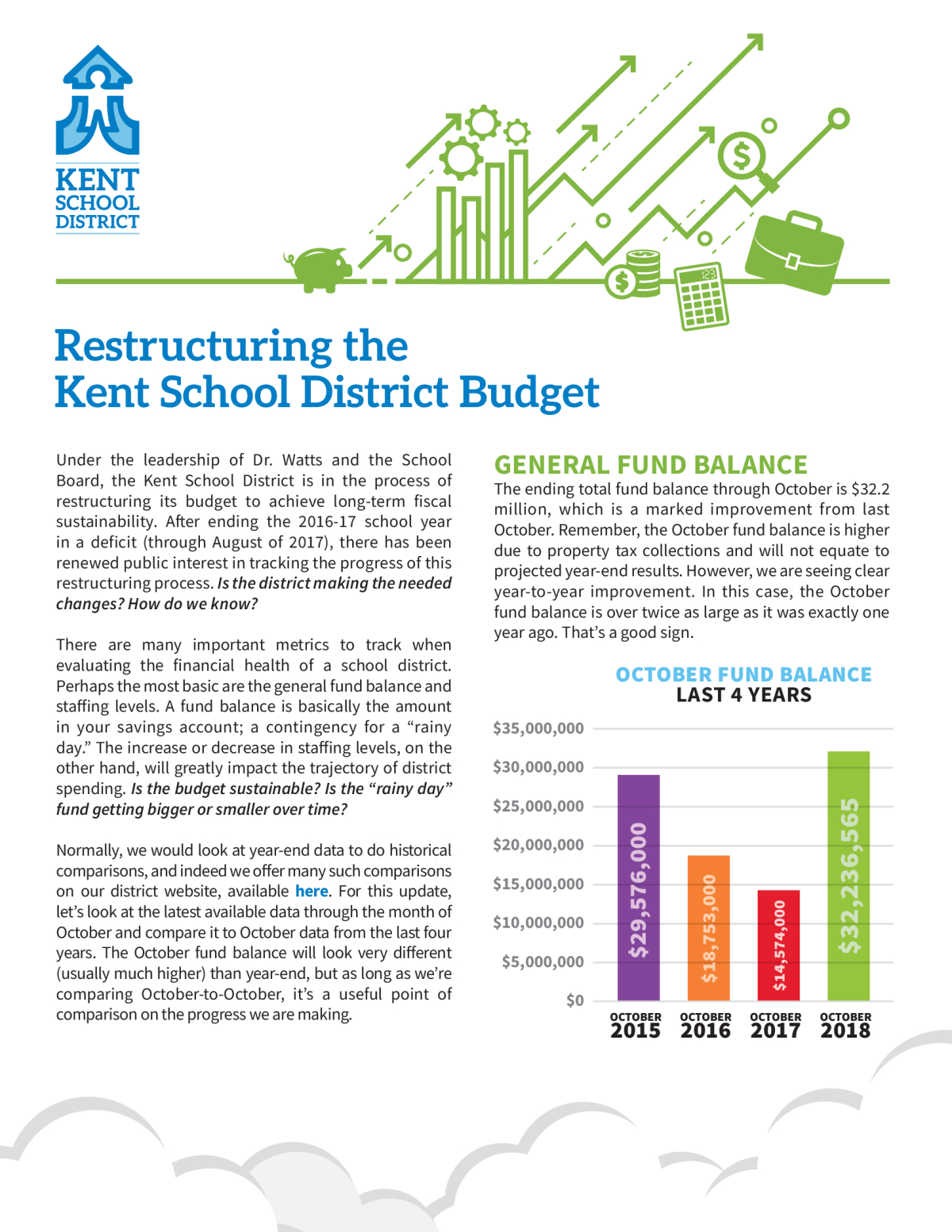 KENT SCHOO DISTRICT Restructuring the Kent School District Budget Under the leadership of Dr. Watts and the Schoo GENERAL FUND BALANCE Board, the Kent School District is in the process of restructuring its budget to achieve long-term fiscal sustainability. After ending the 2016-17 school year in a deficit (through August of 2017), there has been renewed public interest in tracking the progress of this restructuring process. Is the district making the needed changes? How do we know? The ending total fund balance through October is $32.2 million, which is a marked improvement from last October. Remember, the October fund balance is higher due to property tax collections and will not equate to projected year-end results. However, we are seeing clear year-to-year improvement. In this case, the October fund balance is over twice as large as it was exactly one year ago. That's a good sign. There are many important metrics to track when evaluating the financial health of a school district. Perhaps the most basic are the general fund balance and staffing levels. A fund balance is basically the amount OCTOBER FUND BALANCE LAST 4 YEARS your savings account; a contingency for a "rainy day." The increase or decrease in staffing levels, on the other hand, will greatly impact the trajectory of district spending. Is the budget sustainable? Is the "rainy day" fund getting bigger or smaller over time? Normally, we would look at year-end data to do historical comparisons, and indeed we offer many such comparisons on our district website, available here. For this update, let's look at the latest available data through the month of October and compare it to October data from the last four years. The October fund balance will look very different (usually much higher) than year-end, but as long as we're comparing October-to-October, it's a useful point of comparison on the progress we are making. $35,000,000 $30,000,000 $25,000,000 $20,000,000 $15,000,000 $10,000,000 $5,000,000 $0 OCTOBER OCTOBER OCTOBER OCTOBER 2015 2016 2017 2018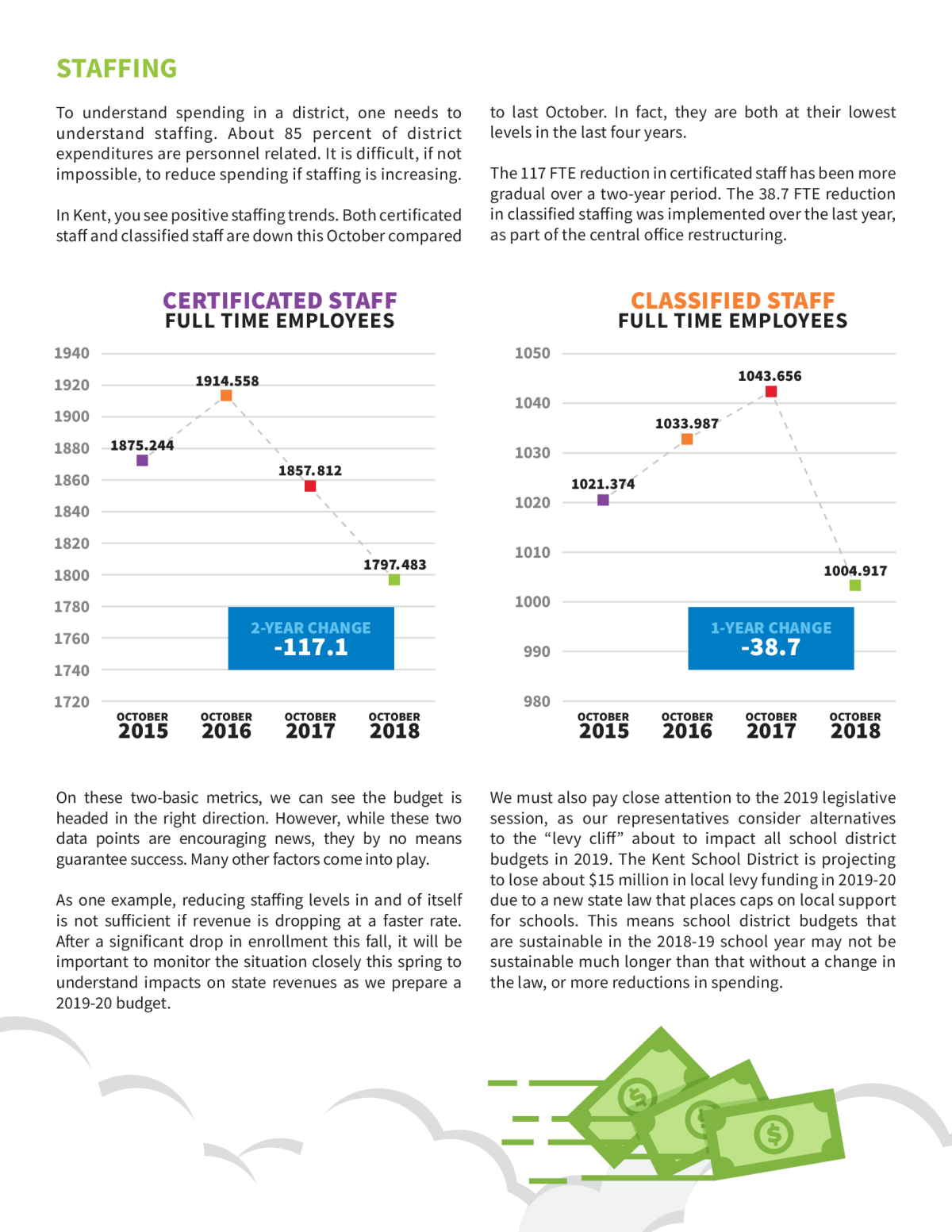 STAFFING to last October. In fact, they are both at their lowest levels in the last four years. To understand spending in a district, one needs to understand staffing. About 85 percent of district expenditures are personnel related. It is difficult, if not impossible, to reduce spending if staffing is increasing The 117 FTE reduction in certificated staff has been more gradual over a two-year period. The 38.7 FTE reduction in classified staffing was implemented over the last year, as part of the central office restructuring. In Kent, you see positive staffing trends. Both certificated staff and classified staff are down this October compared CERTIFICATED STAFF FULL TIME EMPLOYEES CLASSIFIED STAFF FULL TIME EMPLOYEES 1940 1920 1900 1880 1875.244 1860 1840 1820 1800 1780 1760 1740 1720 1050 1043.656 1914.558 1040 1033.987 1030 1857.812 1021.374 1020 1010 1797.483 1004.917 1000 2-YEAR CHANGE 1-YEAR CHANGE 38.7 990 980 OCTOBER 2015 2016 2017 2018 OCTOBER OCTOBER OCTOBER OCTOBER 2015 2016 2017 2018 OCTOBER OCTOBER OCTOBER On these two-basic metrics, we can see the budget is We must also pay close attention to the 2019 legislative headed in the right direction. However, while these two session, as our representatives consider alternatives data points are encouraging news, they by no means to the "levy cliff" about to impact all school district guarantee success. Many other factors come into play. As one example, reducing staffing levels in and of itself is not sufficient if revenue is dropping at a faster rate. After a significant drop in enrollment this fall, it will be important to monitor the situation closely this spring to understand impacts on state revenues as we prepare a 2019-20 budget. budgets in 2019. The Kent School District is projecting to lose about $15 million in local levy funding in 2019-20 due to a new state law that places caps on local support for schools. This means school district budgets that are sustainable in the 2018-19 school year may not be sustainable much longer than that without a change in the law, or more reductions in spending.
Flyer ID 672062
Sent from Kent School District
© 2019 Peachjar. All rights reserved.