Washington Elementary School
September Newsletter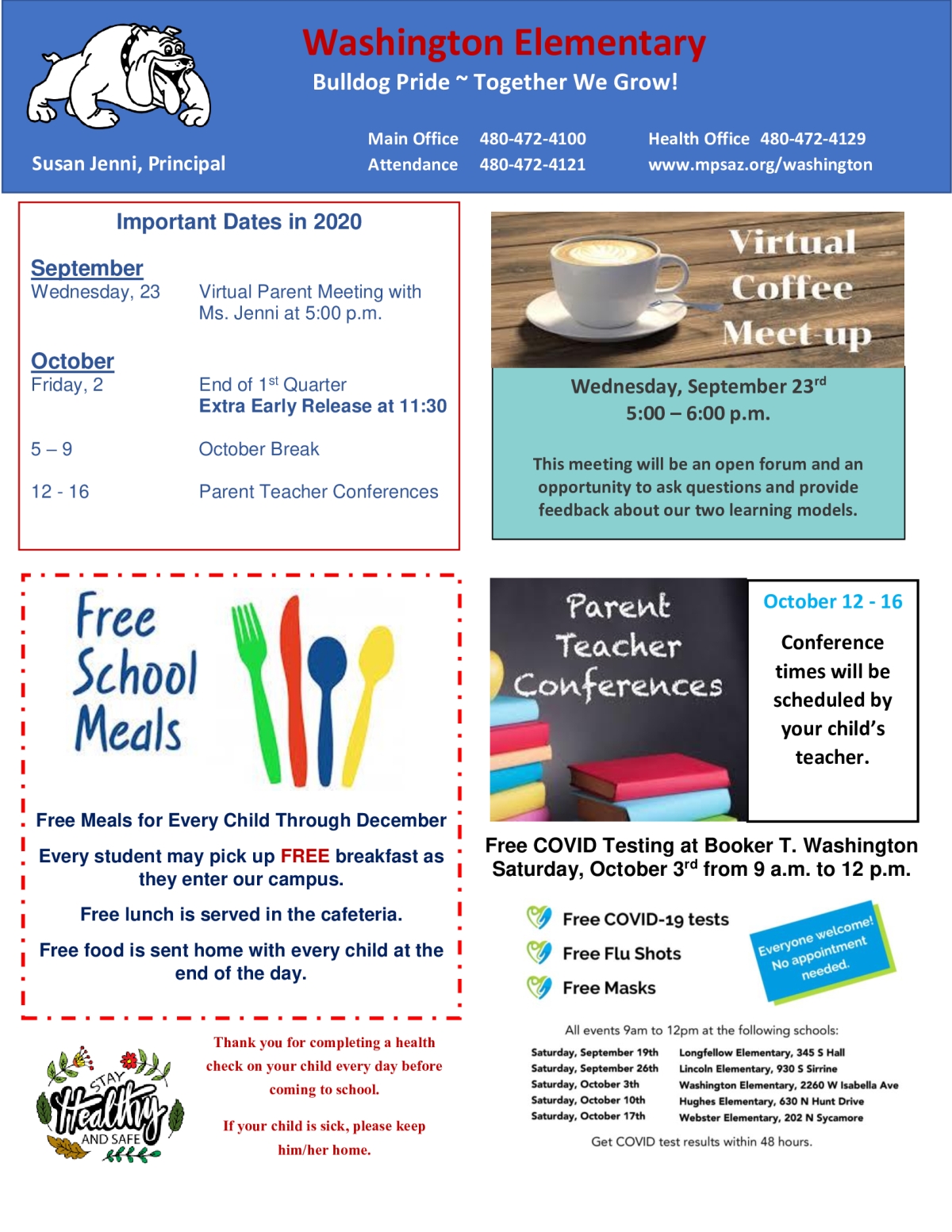 Washington Elementary Bulldog Pride Together We Grow! Main Office 480-472-4100 Health Office 480-472-4129 Susan Jenni, Principal Attendance 480-472-4121 www.mpsaz.org/washington Important Dates in 2020 Virtual September Wednesday, 23 Coffee Virtual Parent Meeting with Ms. Jenni at 5:00 p.m. Meet up October Friday, 2 Wednesday, September 23rd 5:00 6:00 p.m. End of 1st Quarter Extra Early Release at 11:30 5 - 9 October Break This meeting will be an open forum and an opportunity to ask questions and provide feedback about our two learning models. 12 - 16 Parent Teacher Conferences Free School Meals Parent October 12 - 16 Teacher Conference times will be Conferences scheduled by your child's teacher. Free Meals for Every Child Through December Every student may pick up FREE breakfast as they enter our campus. Free COVID Testing at Booker T. Washington Saturday, October 3rd from 9 a.m. to 12 p.m. Free lunch is served in the cafeteria. Free COVID-19 tests Free food is sent home with every child at the end of the day. No appointment needed. Free Flu Shots Everyone welcome! Free Masks All events 9am to 12pm at the following schools: Thank you for completing a health Saturday, September 19th Saturday, September 26th Saturday, October 3th Saturday, October 10th Longfellow Elementary, 345 S Hall Lincoln Elementary, 930 S Sirrine Washington Elementary, 2260 W Isabella Ave check on your child every day before OSTAY coming to school. Hughes Elementary, 630 N Hunt Drive Saturday, October 17th Webster Elementary, 202 N Sycamore If your child is sick, please keep AND SAFE Get COVID test results within 48 hours. him/her home.
Flyer ID 1038267
Sent from Washington Elementary School
© 2019 Peachjar. All rights reserved.