Wilcox High
First-Ever Districtwide Virtual Spirit Week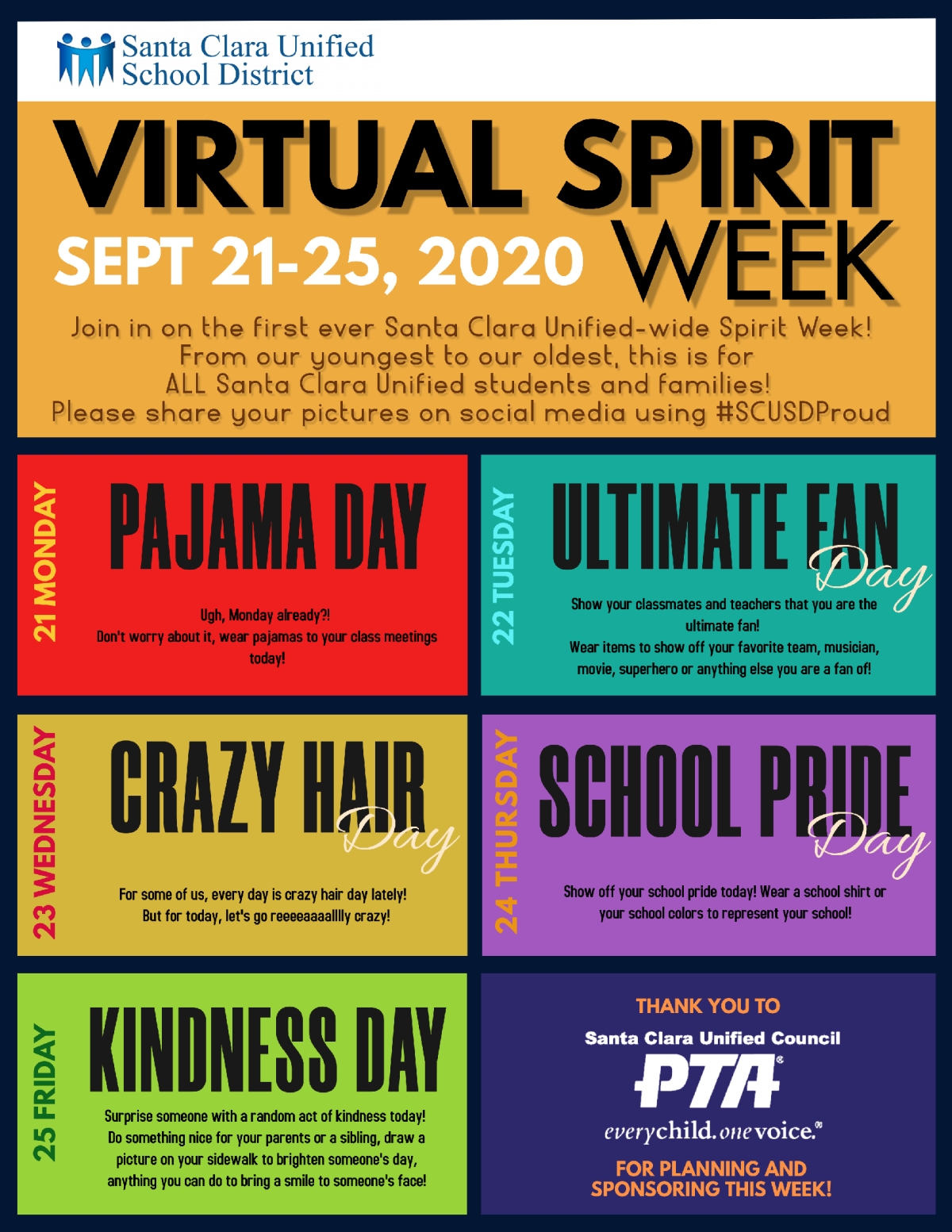 Santa Clara Unified School District VIRTUAL SPIRIT SEPT 21-25, 2020 WEEK Join in on the first-ever Santa Clara Unified-wide Spirit Week! From our youngest to our oldest, this is for ALL Santa Clara Ünified students and families! Please share your pictures on social media using #SCUSDProud 21 MONDAY PAJAMA DAY Ugh, Monday already?! Don't worry about it, wear pajamas to your class meetings today! 22 TUESDAY ULTIMATE FAN Day Show your classmates and teachers that you are the ultimate fan! Wear items to show off your favorite team, musician, movie, superhero or anything else you are a fan of! 23 WEDNESDAY CRAZY HAIR Day For some of us, every day is crazy hair day lately! But for today, let's go reeeeaaaallly crazy! 24 THURSDAY SCHOOL PRIDE Day Show off your school pride today! Wear a school shirt or your school colors to represent your school! 25 FRIDAY KINDNESS DAY Surprise someone with a random act of kindness today! Do something nice for your parents or a sibling, draw a picture on your sidewalk to brighten someone's day, anything you can do to bring a smile to someone's face! THANK YOU TO Santa Clara Unified Council PTA FOR PLANNING AND SPONSORING THIS WEEK!
Flyer ID 1024032
Sent from Wilcox High
© 2019 Peachjar. All rights reserved.