Whitaker Elementary
Take-Home Meal Schedule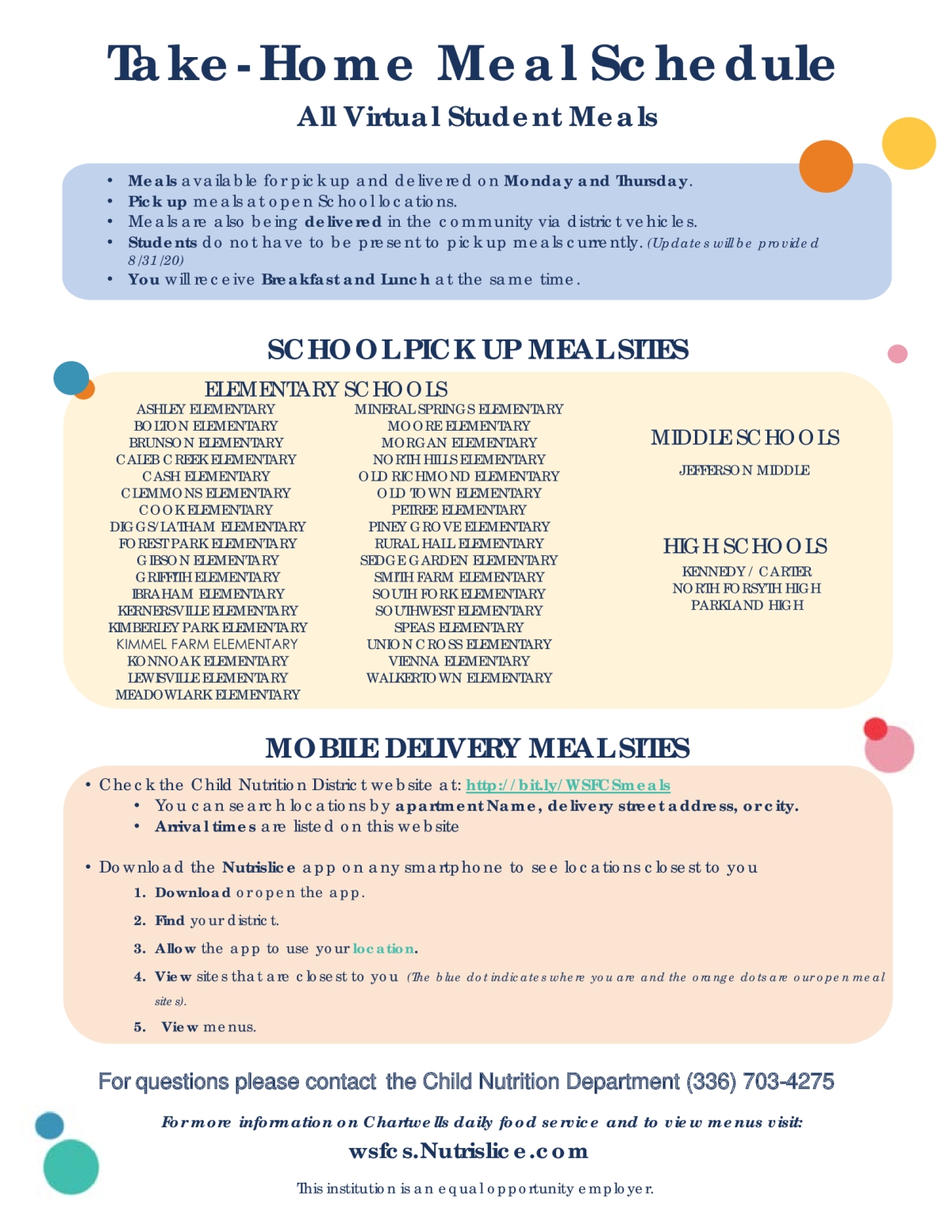 Take-Home Meal Schedule All Virtual Student Meals Me available b le for pick up and delivered on Monday and Thursday. Pick up meals at open School locations. Meals are also be ing delivered in the community via district vehicles. Students do not have to be present to pick up meals currently. (Updates will be providedv8 /31 /20) You will receive Breakfast and Lunch at the same time. SCHOOL PICK UP MEAL SITES ELEMENTARY SCHOOLS ASHLEY ELEMENTARY MINERAL SPRINGS ELEMENTARY OLTON LEMEN ARY MOORE ELEMENTARY MORGAN ELEMENTARY BRUNSON ELEMENTARY CALEB CREEK ELEMENTARY NORTH HILLS ELEMENTARY OLD RICHMOND ELEMENTARY OLD TOWN ELEΜE ARY PETREE ELEMENTARY CASH ELEMENTARY CLEMMONS ELEΜ ARY COOK ELEMENTARY DIGGS-LATHAM LEMEN RY PINEY GROVE ELEMENTARY FORREST PARK ELEMENTARY RURAL HALL ELEMENTARY GIBSON ELEMENTARY SBDGE GARDEN LΜE ARY GRIFFITH ELEMENTARY SMIT F RM ELEΜE ARY IBRAHAM ELEMENTARY SOUTH FORK ELEΜ ARY KERNERSVILLE ELEMENTARY SOUTHWEST ELEMENTARY ΜBERL PARK LMENATRY SPEAS ELEMENTARY KIMMEL FARM ELEMENTARY UNION CROSS ELEMENTARY ELEM ARY LEWISVILLE ELEMENTARY VIENNA ELEMENTARY WALKERTOWN ELEMENTARY MEADOWLARK ELEMENTARY MIDDLE SCHOOLS JEFFERSON MIDDLE HIGH SCHOOLS KENNEDY / CARTER NORTH FORSYTH HIGH PARKLAND HIGH MOBILE DELIVERY MEALSIIES Check the Child Nutrition District web site at: http://bit.ly/WS/FCSmeals - You can search for locations by apartment Name, delivery street address, or city. Amival times are listed on this web site Download the Nutrislice app on any smartphone to see locations closest to you 1. Download or open the app. 2. Find your district. 3. Allow the app to use your location. 4. View sites that are closest to you (The blue dot indicates where you are and the orange dots are our open meal sites). 5. View menus. For questions please contact the Child Nutrition Department (336) 703-4275 For more information on Chartwells daily food service and to view menus visit: wsfcs.Nutrislice.com This institution is an equal opportunity employer.
Flyer ID 1015885
Sent from Whitaker Elementary
© 2019 Peachjar. All rights reserved.