Tortuga Preserve Elementary School
Mandatory Uniform Policy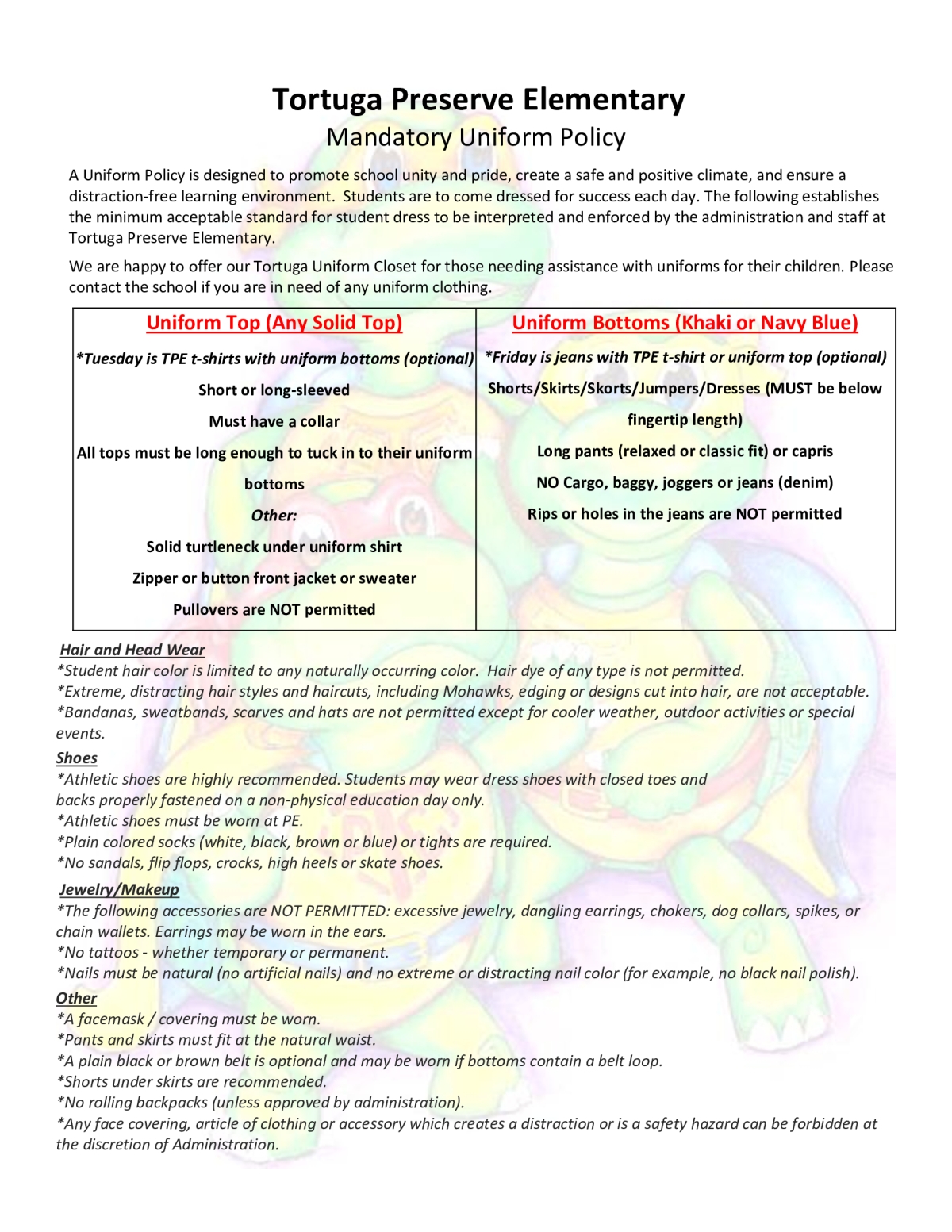 Tortuga Preserve Elementary Mandatory Uniform Policy A Uniform Policy is designed to promote school unity and pride, create a safe and positive climate, and ensure a distraction-free learning environment. Students are to come dressed for success each day. The following establishes the minimum acceptable standard for student dress to be interpreted and enforced by the administration and staff at Tortuga Preserve Elementary. We are happy to offer our Tortuga Uniform Closet for those needing assistance with uniforms for their children. Please contact the school if you are in need of any uniform clothing. Uniform Top (Any Solid Top) Uniform Bottoms (Khaki or Navy Blue) *Tuesday is TPE t-shirts with uniform bottoms (optional) *Friday is jeans with TPE t-shirt or uniform top (optional) Short or long-sleeved Shorts/Skirts/Skorts/Jumpers/Dresses (MUST be below Must have a collar fingertip length) All tops must be long enough to tuck in to their uniform Long pants (relaxed or classic fit) or capris bottoms NO Cargo, baggy, joggers or jeans (denim) Other: Rips or holes in the jeans are NOT permitted Solid turtleneck under uniform shirt Zipper or button front jacket or sweater Pullovers are NOT permitted Hair and Head Wear *Student hair color is limited to any naturally occurring color. Hair dye of any type is not permitted. *Extreme, distracting hair styles and haircuts, including Mohawks, edging or designs cut into hair, are not acceptable. *Bandanas, sweatbands, scarves and hats are not permitted except for cooler weather, outdoor activities or special events. Shoes *Athletic shoes are highly recommended. Students may wear dress shoes with closed toes and backs properly fastened on a non-physical education day only. *Athletic shoes must be worn at PE. *Plain colored socks (white, black, brown or blue) or tights are required. *No sandals, flip flops, crocks, high heels or skate shoes. Jewelry/Makeup *The following accessories are NOT PERMITTED: excessive jewelry, dangling earrings, chokers, dog collars, spikes, or chain wallets. Earrings may be worn in the ears. *No tattoos - whether temporary or permanent. *Nails must be natural (no artificial nails) and no extreme or distracting nail color (for example, no black nail polish). Other *A facemask / covering must be worn. *Pants and skirts must fit at the natural waist. *A plain black or brown belt is optional and may be worn if bottoms contain a belt loop. *Shorts under skirts are recommended. *No rolling backpacks (unless approved by administration). *Any face covering, article of clothing or accessory which creates a distraction or is a safety hazard can be forbidden at the discretion of Administration.
Flyer ID 1011220
Sent from Tortuga Preserve Elementary School
© 2019 Peachjar. All rights reserved.