Palm Springs Unified
Tech Repair Depot - July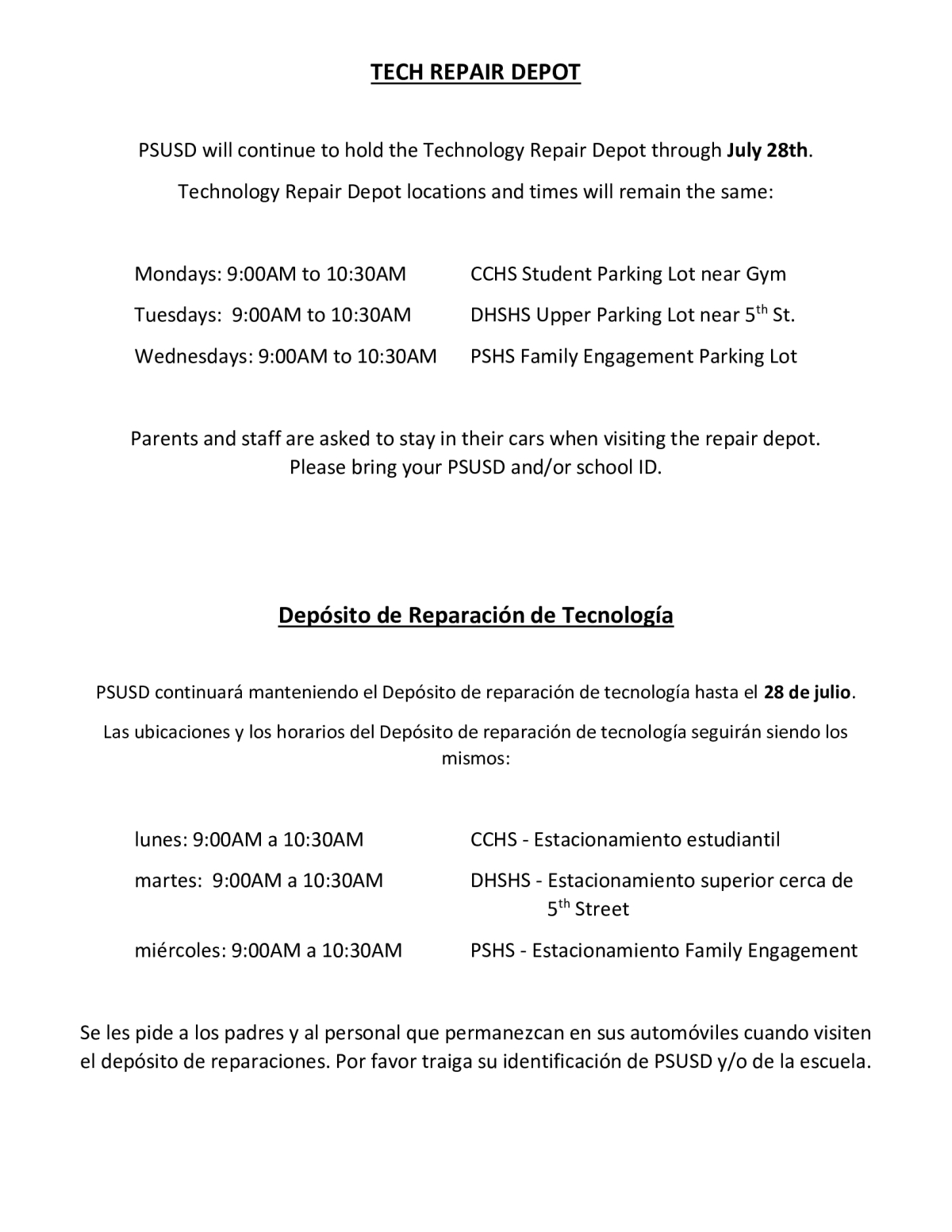 TECH REPAIR DEPOT PSUSD will continue to hold the Technology Repair Depot through July 28th. Technology Repair Depot locations and times will remain the same: Mondays: 9:00AM to 10:30AM CCHS Student Parking Lot near Gym Tuesdays: 9:00AM to 10:3OAM DHSHS Upper Parking Lot near 5th St. Wednesdays: 9:00AM to 10:30AM PSHS Family Engagement Parking Lot Parents and staff are asked to stay in their cars when visiting the repair depot. Please bring your PSUSD and/or school ID. Depósito de Reparación de Tecnología PSUSD continuará manteniendo el Depósito de reparación de tecnología hasta el 28 de julio. Las ubicaciones y los horarios del Depósito de reparación de tecnología seguirán siendo los mismos: lunes: 9:00AM a 10:30AM CCHS - Estacionamiento estudiantil martes: 9:00AM a 10:30AM DHSHS - Estacionamiento superior cerca de 5th Street miércoles: 9:00AM a 10:3OAM PSHS - Estacionamiento Family Engagement Se les pide a los padres y al personal que permanezcan en sus automóviles cuando visiten el depósito de reparaciones. Por favor traiga su identificación de PSUSD y/o de la escuela.
Flyer ID 1003649
Sent from Palm Springs Unified
© 2019 Peachjar. All rights reserved.